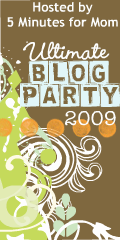 Hello everyone, I'm Melanie and welcome to my blog! I started this blog to keep my online friends up to date with the happenings of my life and family, and later to update my family out of town.
In the last couple of months, I have eased into the review/giveaway arena because it looked like tons of fun! It HAS been lots of fun, and I'm enjoying networking with so many wonderful businesses and people.
If you look to the right of my blog, you will see windows for both my Etsy and Art Fire shops, KaiLei Designs. I am currently making home decor frames from recycled and unfinished frame bases and decorating and/or painting them. Please check it out when you have the chance.
I am married, just over three years now and I have one daughter and a step-son. They make life fun and interesting. I am currently a stay at home mommy, and I love it. Such a blessing especially in these times, to be able to do. Blogging helps me stay in touch with adults while taking care of a toddler during the day. I even get to talk to my friends that are just a few miles away :)
I have the most awesome friends and church community. They're the reason I stay here in the desert. After living here 13 years, I could say the only place I'd dislike more is one that snows as much as we have heat! I am where I want to be so I can't complain...too much ;)
Here are some pics of myself and my family-
My husband and I



My daughter and step-son
Thanks for coming by. It will be so nice to meet as many of you as I can!
My top 5 prize wish list-
1. USC35-hotslings sling and nursing cover
2. 89-gc to Homegoods
3. 58-Kitchen aid artisan mixer from moms who think
4. 56-Surprise art supplies-kv creative designs
5. 19,21, 0r 22-$50 Target gift card from shoot-me-now Agoosa or Beginner baby blog